Dallas Geophysical Society Luncheon - May 2019
Arkoma- Woodford Depth Imaging Project
Rob Yorke
CEO. Advanced Geophysical Technology, Inc "AGT"


AGT, in collaboration with Corterra Energy, will be giving a presentation reviewing the Depth processing of 3D data over ongoing Woodford drilling prospects in the Arkoma Basin and comparing it with a Time Processed dataset. This workflow can be applied to conventional and unconventional drilling environments. The speaker will be Rob Yorke, the CEO of AGT. The purpose of this project was to address issues such as:
• Significant structural and stratigraphic issues (Arkoma basin)
1. Structural throw close to 1,000 feet in areas.
2. Complicated fault geometry.
3. Significant wedging of the shallow Atoka.
4. Stratigraphic thickening and thinning of the Woodford unconformity.
• Limited well control hinders geology, geosteering, and geophysical efforts:
1. Only 7 wells in the initial 3D that penetrated the Woodford and Viola.
2. Three sonic logs, none of them in the deep down-thrown fault blocks.
• PSTM data often disagreed with geosteering results.
• Moderate anisotropy yielded PSTM gathers with enough residual move-out to make pre-stack analysis, such as AVO and elastic impedance, unreliable.
The presentation will include the Depth Imaging product that was produced by AGT and compare it to the existing PSTM processing. Before and after examples of the data will be shown with the actual drill bit path hi-lighted to illustrate how well the drilling stayed in zone. Well tie differences up and down the section will also be compared. This is an exercise that not only led to the proper steering of lateral wells, but also led to some interesting surprises as well.
Rob Yorke – CEO. Advanced Geophysical Technology, Inc. "AGT"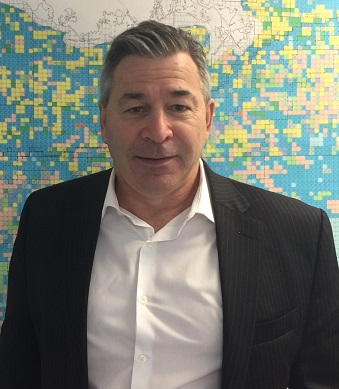 Rob currently serves as CEO of AGT, an advanced seismic imaging technology company. Rob has provided seismic imaging services and software solutions to the oil service industry for more than 35 years of which the last 23 years have been based in the U.S. His broad experience ranges from managing divisions within publicly traded oil service companies to leading small, entrepreneurial privately held seismic imaging companies. Rob began his career in Calgary with Veritas in 1981 before moving to the U.S., where he led the Veritas Seismic processing group's entry into the U.S. market in 1993. He subsequently served as Vice President of Seismic Services for ADS in 2001 before Core Lab's purchase of ADS, and president of Core Lab's Reservoir Technology Division. He also served as President of the U.S. division of Paradigm Geophysical and CEO of 3DGEO, a small niche depth imaging company. Rob attended Acadia University, Nova Scotia, Canada from 1979-1981, where he majored in Computer Science.
Royal Oaks Country Club, 7915 Greenville Ave, Dallas, TX 75231, USA