Comments from the President of the Dallas Geophysical Society
November 2019 President's Letter
Dear Members,
Thank you for joining us last month for our first Dallas Geophysical Society luncheon of the term. Dr David Lumley, UT Dallas, was back by popular demand to give his talk Some Thoughts on the Resolution of Features in the Earth We Can Obtain with Seismic Waves. We had a good mix of the Dallas Geophysical Society and Dallas Geological Society membership and many students were able to join from UT Dallas. A special thanks to our luncheon sponsor, Glenn Winters with Seisware, for helping to keep the cost down for our local student members. And please be sure to add our Dallas Geophysical Society email addresses to your contacts so you don't miss our regular e-blasts regarding luncheons and other great networking events: dallasgeophysical@gmail.com and info@dgs.silkstart.com.
Don't forget, we changed the luncheon schedule quite a bit this year and we're working with the Dallas Geological Society to provide a great slate of talks for 2019-2020. To this end, we are taking turns hosting our luncheons this term with the following schedule remaining:
NOV 2019 - Dallas Geological Society – Click here to register
JAN 2020 - Dallas Geophysical Society
FEB 2020 - Dallas Geological Society
MAR 2020 - Dallas Geophysical Society
APR 2020 - Dallas Geological Society
MAY 2020 - Dallas Geophysical Society
The next luncheon is next Tuesday, November 12th, hosted by the Dallas Geological Society, Application of Geochemistry on Assessment of Petroleum Fluid Phase Behavior, Migration, Production Allocation, Reservoir Monitoring, and Petroleum Systems Analysis: Case Studies from a US On-shore Unconventional Shale and Tight Reservoir by Mohammad "Wahid" Rahman, Ph.D. You can find the abstract, references, bio, and registration on the Dallas Geological Society website: https://www.dgs.org/events/122/
On October 28, 2019, we hosted our 44th Annual Dallas Geophysical Society Golf Tournament at Texas Star Golf Course in Euless, TX. Patrick Reese, Julie Owen, and Amy Pilling did an excellent job organizing the event and drawing in sponsorship. The weather was great, the prizes were enticing, the food was delicious, the turnout was excellent, and most importantly, we raised more money for the scholarship fund! We hope to see many familiar and new faces on the course next year! Thanks again to our wonderful sponsors!
Gold Sponsor
Silver Sponsors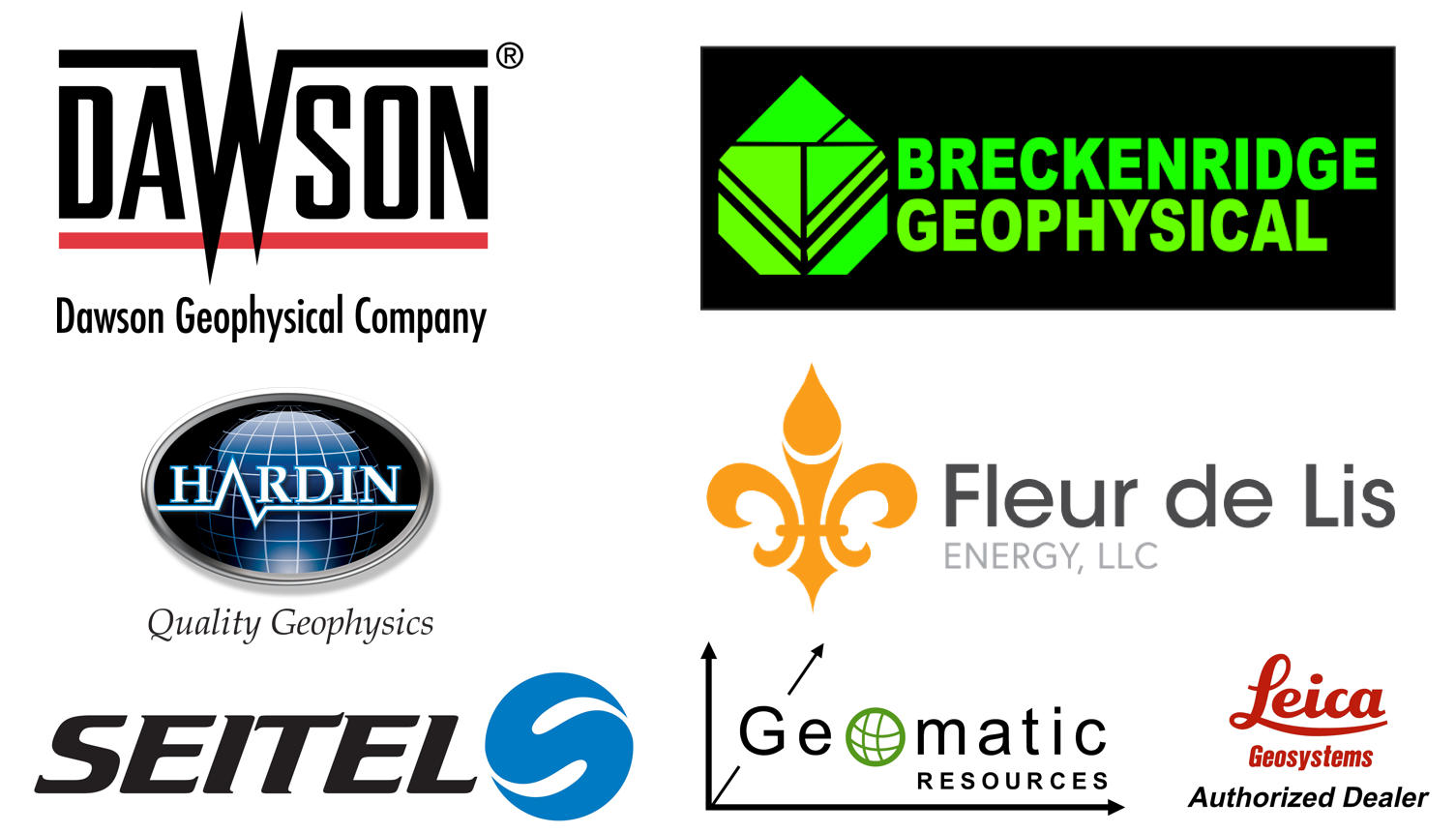 Hole Sponsors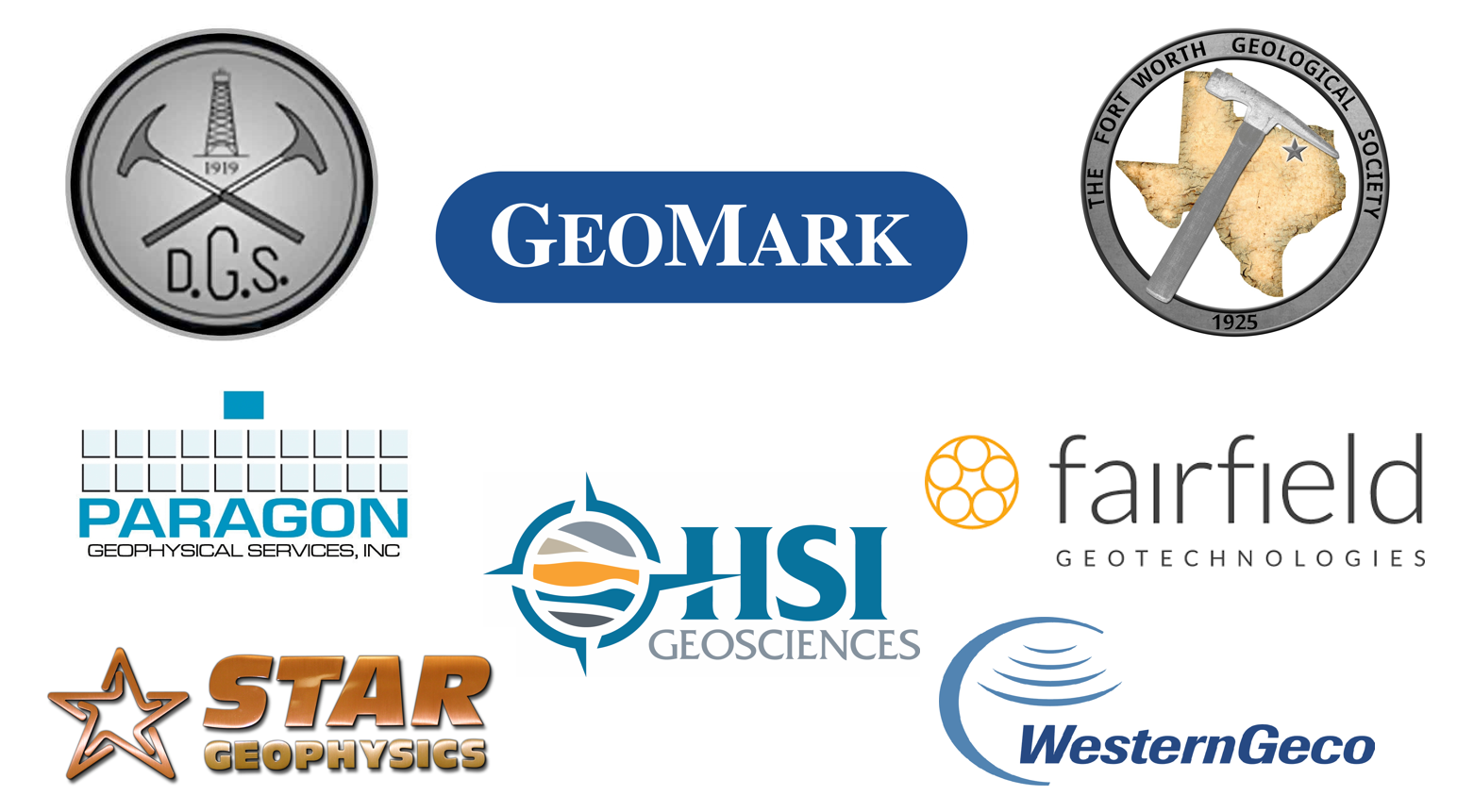 The holidays are quickly arriving! The Dallas Geological Society has been working hard to plan an exciting party for the societies this year. Please don't hesitate to sponsor and register on the Dallas Geological Society website: https://www.dgs.org/events/110/ You can secure your tickets for $50/person if you register before the November 14 deadline.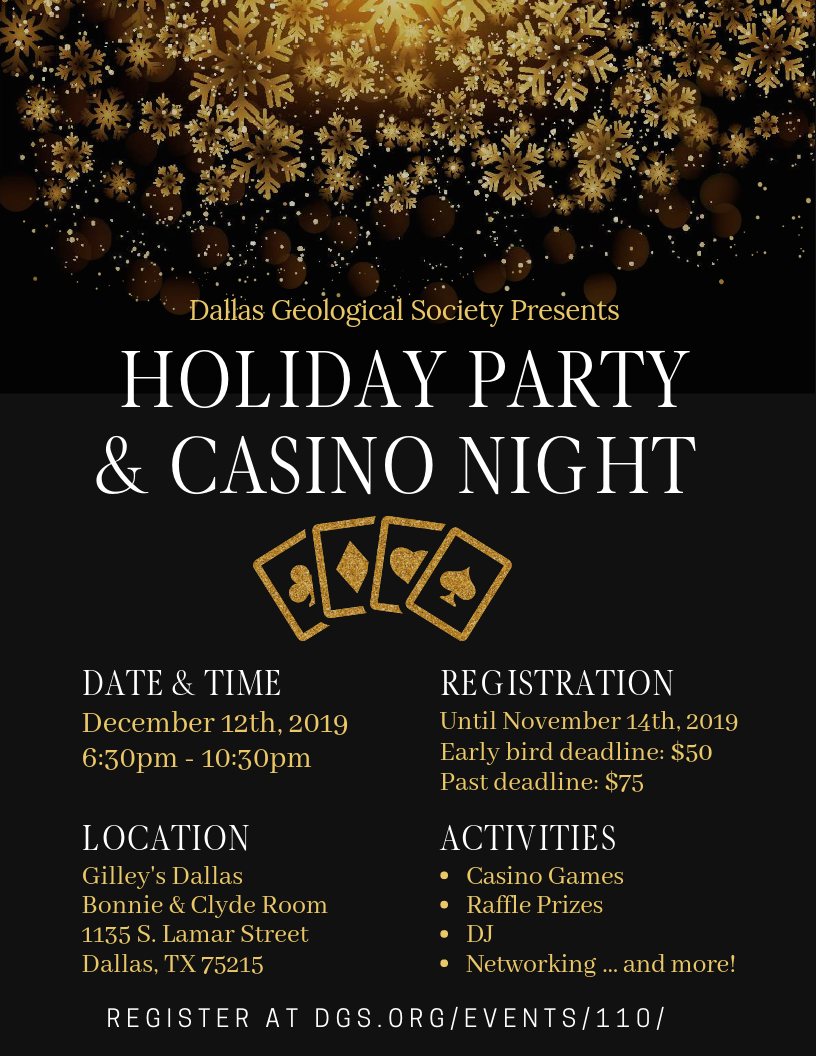 Also, don't forget to save-the-date for our Second Annual Sporting Clay Classic to be held at Elm Fork Shooting Sports on Saturday, April 4, 2020. Mark it down now! Registration and sponsorship information will go out in the following weeks. We expect registration numbers to grow significantly from last year, so please be sure to plan your budgets now!
The aforementioned events help generate revenue for the societies to donate to scholarship funds. This past year, the Dallas Geophysical Society members and sponsors helped to contribute $3500 to the Karen Kellogg Shaw SEG fund which greatly helps geophysical students with tuition and expenses. We cannot thank you all enough for your continued support of our society and your generous contributions to the future of our industry.
Time flies by quickly and it won't be long before our President-Elect, Ruth Hammans, will need to fill her Dallas Geophysical Society Board of Directors for 2020-2021. Please take some time to consider the impact you will have on your local geophysical community by volunteering your time to the society. There are many different capacities in which you can serve!
We look forward to seeing you again at the Dallas Geological Society luncheon on Tuesday, November 12th!
Regards,
Dillon LaFoy
2019-2020 President
Dallas Geophysical Society
Dallas Geophysical Society Calendar