Comments from the President of the Dallas Geophysical Society
All,
A huge "Thank You" to all shooters and sponsors for our inaugural Dallas Geophysical Society Sporting Clay Classic at Elm Fork Shooting Sports in Dallas, TX. We had a great turnout for our first event in spite of the cold weather. Everyone was able to warm up with coffee and breakfast provided by Silverthorne Seismic before heading out to the field. We had representatives from many of our sponsors including Dawson Geophysical, Denbury Resources, Borehole Seismic, Breckenridge Geophysical, WesternGeco, ES Xplore, Hardin International, SEI, Tiger Valley, and Paul Martin's American Grill. Every single one of our shooters left with a prize and great memories, all thanks to the gracious support of sponsors. Following the shoot, Hardin International and Dawson Geophysical sponsored lunch right down the road at Gas Monkey Bar N' Grill to provide a spot for food, drinks, and networking opportunities for all of our supporters. The event was so successful, our committee is already planning for next year and hope we can count on you and your company to attend and support!
I would also like to recognize Dillon Lafoy, Patrick Reese and Amy Pilling for the success of the first Sporting Clay Classic. Without their hard work we would not have been able to organize such a great event.
                March 21st we will be hosting our monthly luncheon at Royal Oaks with guest lecturer Bryan DeVault, speaking on "Unconventional Seismic for Unconventional Reservoirs." We look forward seeing all of you who can attend. 
                 We will also be posting the nominees for the 2019-2020 BOD. If you would like to serve or nominate someone for the BOD we are still looking for 1st VP; Webmaster; and Secretary. Lastly, we are always looking for someone to include on our sponsorship committee.   
Regards,
Nic Bongiovanni
President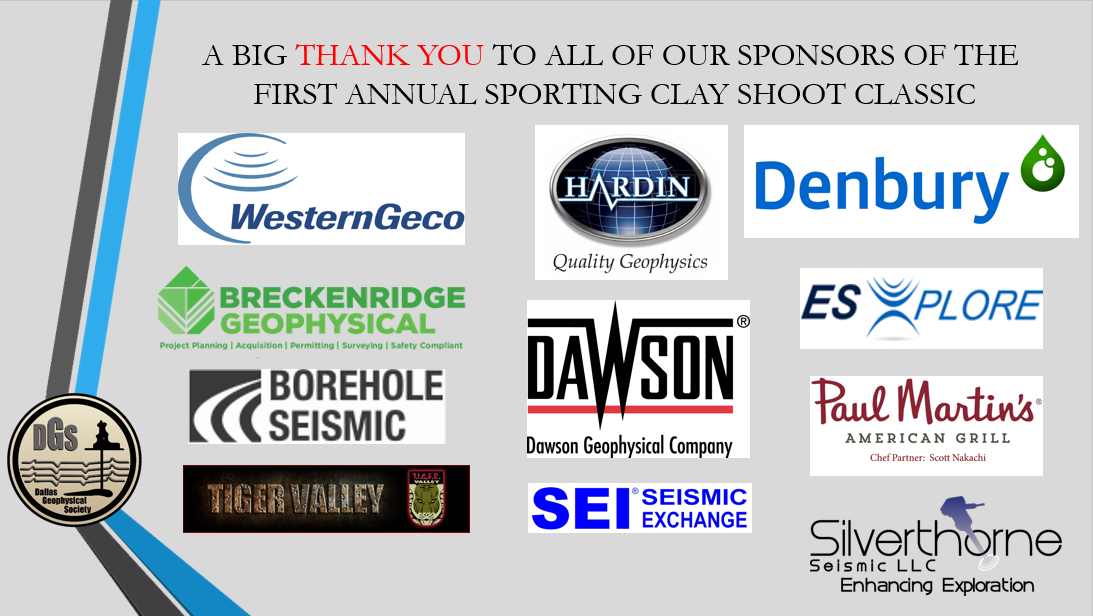 Dallas Geophysical Society Calendar